TRAILS GUIDE TRAINING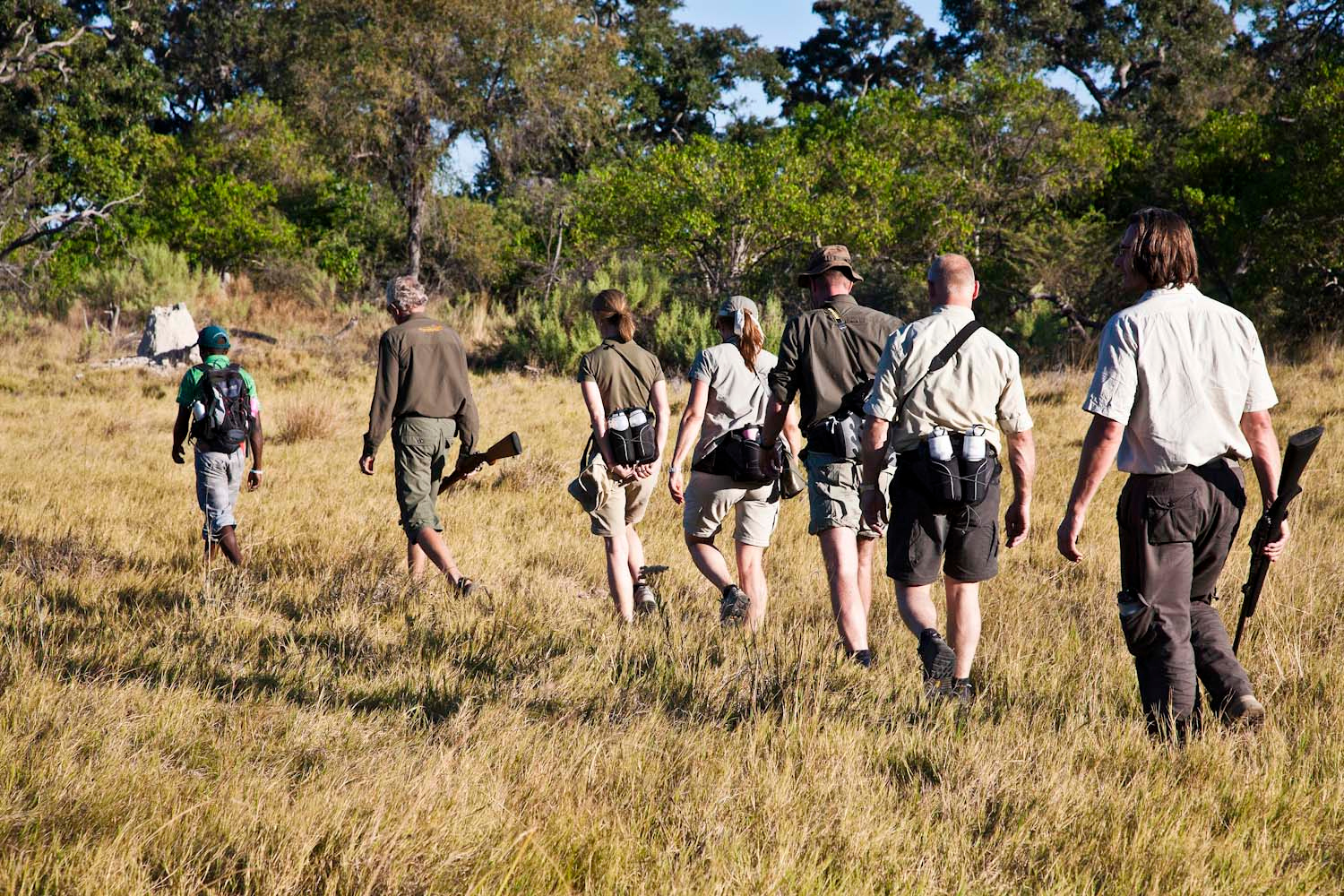 This course is aimed at students who want to obtain a trails guide qualification. It's perfectly suitable for people who seriously consider to work as a safari trail guide professionally, either as a new career or in addition to the safari guide qualification that is limited to jeep safaris in certain areas. The Okavango Guiding School (OGS) is the only company offering both FGASA and BOTA accredited training in Botswana's Okavango Delta.
The course is also unique because of the modular and compressed structure in which it's offered. We've designed the training in such a way that we are able to examine students after five weeks instead of the usual eight weeks. On top of that, students are able to spread their training periods and finish the entire course accordingly.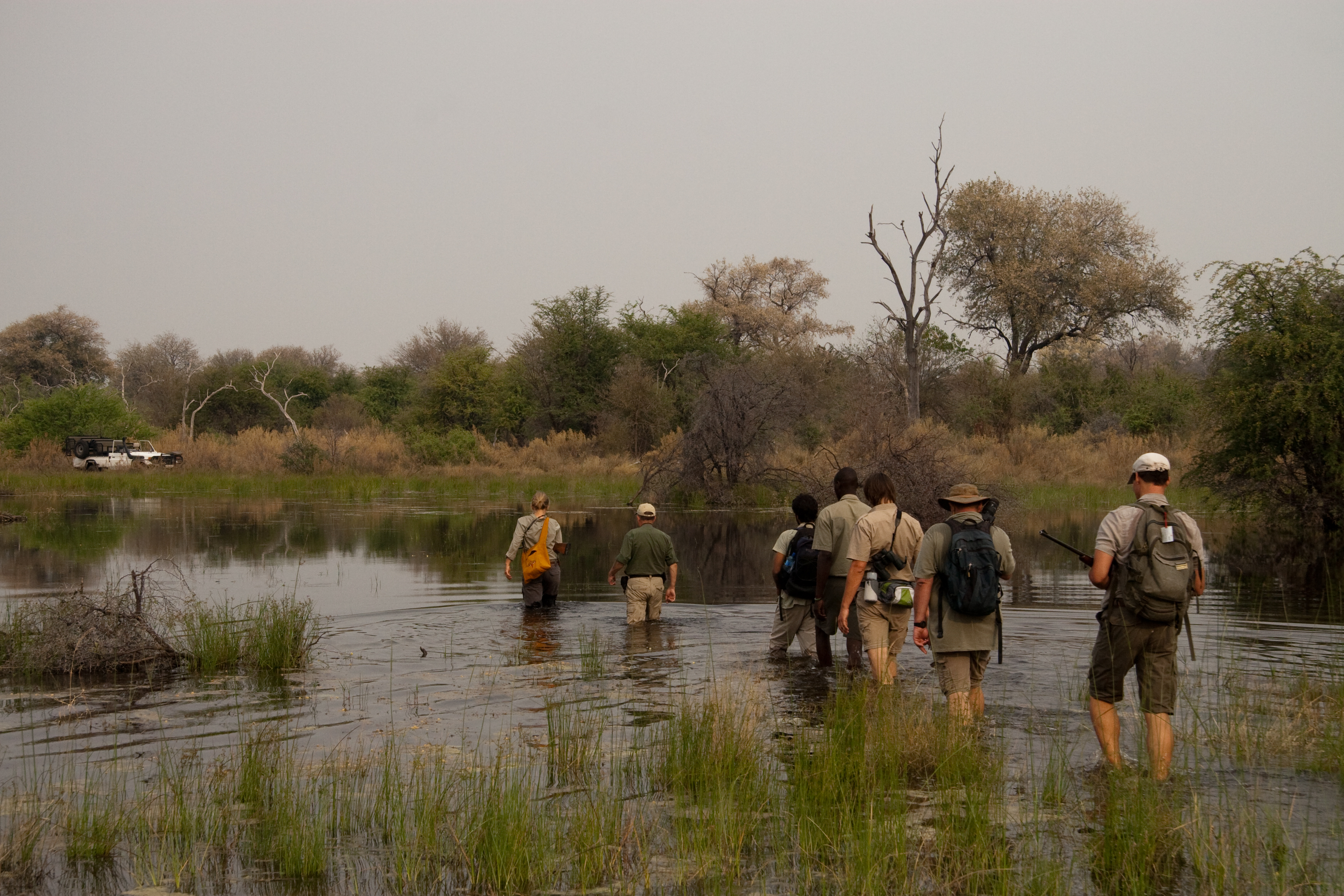 The course is a combination of theory and practice so you will learn how to safely guide a group through areas with potentially dangerous animals –PDA's as we call them in Africa. You will learn all the necessary skills a trail guide needs in a practical way, in one of the most pristine and truly untamed areas of Africa. You'll be using some and more of the following activities to hone these skills:
Game Walks of about two to ten hours in Big Five areas
Game Drives
Mokoro Excursions and Motor Boating
Rifle Handling, Speed Shooting and Simulated Charges
Theory Lectures on Potentially Dangerous Animals (PDA) behavior
The Language and art of Tracking
Navigation Skills
Survival Techniques
Theory about ballistics

Is the Okavango Trails Guide Course® the course for you? Training to become a Trails Guide is physically demanding. Every day, you will be walking and doing drills to learn perfect shooting coordination. We spend much of our time on foot – some of the walks are long and extended into the heat during the day, often through waist-deep floodplains. The physical discomfort aside, this course offers a student the ultimate opportunity to experience Africa in a way that few people ever will. The course requires complete commitment from the participants.
In the text below we'll give you an impression of the theoretical modules that are offered and that are included in your exam. Apart from the theoretical exam there's also a practical exam and a shooting exam.
MODULE 1         Approaching Animals on Foot
Exploring by foot enables you to experience nature in a very direct way. Therefore, you will sometimes be able to see animals from a very short distance. In order to do so in a safe way, you need knowledge. This module offers you that knowledge and will address subjects such as: Rules for walking in the bush. Approaching dangerous game. Comfort zones and personal space. Responses to charging animals. Client restrictions on walks. Guest checks before a walk. Guest briefing before walks. Areas to walk through carefully or to avoid walking through altogether. Circumstances under which approaches should be avoided. The serious charge. Managing a group of guests under every possible circumstance.
MODULE 2         Weapon Handling
Every trails guide must be able to handle weapons and is therefore required to obtain the 'Advanced Rifle Handling diploma'. This diploma has to be renewed every two years. Apart from the practical requirements, you also need theoretical knowledge of subjects such as: rifle requirements, ammunition, rifle loading, state of readiness, rifle operation in dangerous circumstances, carrying a rifle, the function and position of the armed backup or tracker, rifle handling on game drives, rules and safe handling of fire arms, mechanics of the bolt action rifle, rifle ballistics, cleaning and maintenance.
MODULE 3         Dangerous Animal Knowledge
In this module you will enhance your knowledge of the natural behavior of wild animals: how to recognize it, how to interpret it and subsequently how to act accordingly. The animals that are being discussed are the same animals you will be tested on: the white and black rhinoceros, the lion, the leopard, the buffalo, the elephant and the hippo. Apart from those we think it's important to also teach you about other potential dangerous animals, such as crocodiles, hyenas, and snakes. This is not required but considered as an extra.
MODULE 4           National Legislation and Requirements for the Trails Guide Qualifications
In this module we'll discuss the national legislation of Botswana and the legal requirements for working as a trail guide. It also offers the exact requirements the FGASA and BOTA have set to obtain the trails guide qualifications, such as: number of encounters with potentially dangerous animals, number of hours on foot etc. These subjects are also part of the exam.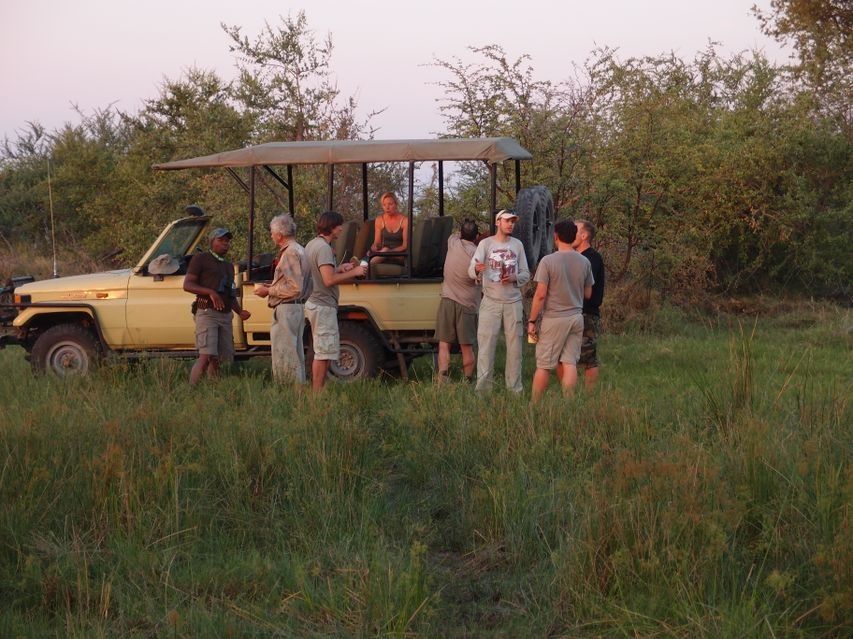 Send us an email to find out if this training suits you, to check the availability in our groups or to get answers to any of your questions.