STORIES OF OUR INSTRUCTORS
Mike
I was born and raised in South Africa. Six years ago, my wife Rose and I moved to Botswana. I've been a 'child of nature' as long as I can remember. As a boy I would roam the savannahs and countryside of South Africa with my dad. He taught me how to look for tracks and together we would search for all the animals we could find.
When I grew older I wanted to enhance my knowledge, so I took several courses to become a guide and an instructor. I would often take friends and acquaintances into the bush and show them the small things that people often overlooked when they were searching for big game. When I became a father myself I passed my enthusiasm on to my children. Both my sons have become professional level 3 guides and guide trainers. My daughter is also an fanatic nature lover and works in the Botswanian tourism industry.
I love to be one with nature and to increase other people's knowledge and understanding about it. Nature makes you feel humble, it helps you put things into perspective. My favorite quote is 'Did you take time to smell the roses today?'
I'm looking forward to meeting you here some day.
Grant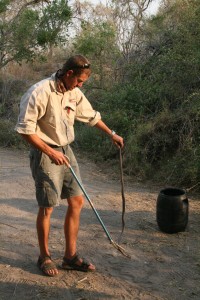 I'm absolutely passionate about everything nature has to offer. I'm a level 3 guide, with special skills in birds, dangerous game and wild flowers. I'm also a certified examiner for both FGASA and BOTA and certified to set the Advanced Rifle Handling exam. My favorite animals are birds and, as you can see in the picture, snakes.
I got my Master's at the University of Johannesburg and I'm also working on my thesis there. Because of the company that I own and the fact that working as a guide and guide training instructor keeps you away from home very often, this has lasted longer that I had initially planned.
For me, training guides is a calling. Of course, working as a guide in itself can be very fulfilling, because you help guests unravel and understand the secrets of the Botswanian bush. But as an instructor, your span of sharing your knowledge becomes even wider because of all the students you train. To me that's very gratifying. Together with my colleagues I train the local guides of virtually every Botswanian lodge, but also the local and international students at Kwapa Camp. I'm looking forward to hear your story, while enjoying a sundowner by the campfire after a long day of walking in the bush together!