OUR PARTICIPANTS' STORIES
These are the stories of some of our former participants. Some of them followed the complete Safari Guide Training, some chose to study for one of more weeklong modules to get a taste of the life as a safari guide and some of them have come back several times. And of them are passionate ambassadors f Botswanatrails.
Casper (Dutch, age 46)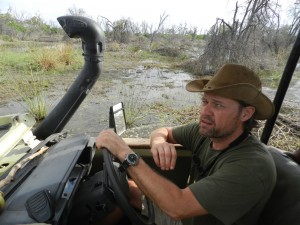 To me, Africa is a magnificent continent where simplicity and sincerity still rule. Botswana, in particular, is a place where people are proud of their country and all the creatures that inhabite it.
When I am in Botswana that pride rubs off on me and I just think it's fantastic to become fully immersed in nature. To spend time among its animals and its friendly and warm people. To nurture your love for nature here. I enjoy this best when I am able to do this together with other people and experience these things together with them. To feel the peace and quiet together, to experience the total freedom and to share the beauty of the landscape and the animals living in it.
Another aspect I really enjoy about Botswanatrails are the sponsorships that help me to contribute to the local society. To me Botswanatrails is the best way to combine my love for nature and my passion for people.  All in all an opportunity to create wonderful and unique expereinces for all people involved. Please come over and feel it for yourself!
Marloes (Dutch, age 49)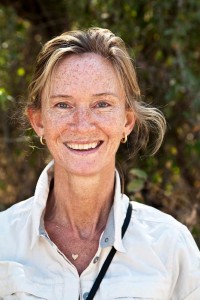 I was offered the unique opportunity to visit a continent that I was unfamiliar with: Africa – the continent with an abundance of unspoiled natural beauty, where wild animals roam freely. An extraordinarily quiet and friendly guide led me into the bush. I learned to recognize the trees, the shrubs and the footprints of wild animals – and more important: how to handle when I were to enter the danger zone of a wild animal.
Sleeping outdoors with mosquito nets, a two-hour night watch by a campfire, navigating the boat through dense reed, driving an all-purpose jeep – it's all there. And then there's the shooting drill: The first blow made my body shake –literally- and it made me realize I would never want to kill an animal. The great atmosphere, the superb dinners and the storytelling by the campfire all made this an experience I will never ever forget. It deepens your respect of the natural beauty you're surrounded with and the wild animals living in it.
Ronald (Dutch, age 46)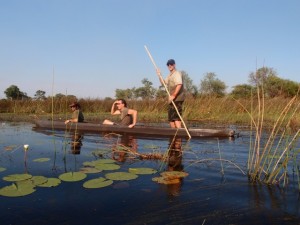 I had an uncle and an aunt who lived in Africa and for a seven-year old boy that was really something that sparked my imagination. As an adult, I travelled through Africa by Landrover a few times. And I have never lost interest in Africa – it's always been an important factor in my life. So when I found out that Botswana Trails offered the safari guide training in separate modules I was very pleasantly surprised.
In October 2011 I spent ten days in Kwapa Camp, joining a group of eight students that was led by our trainer Mike. It's been a very special experience in every imaginable way. Not only do you discover how much there's still to be learned about the flora and fauna in the Okavango Delta, you also go on walks every day in search of wild animals – preferably without disturbing them – you get to pool a mokoro, drive the Landrover on roads that are barely there, just to find out that it's not easy to find your car after a warm and tiring walk, especially when you had parked it under trees…
My stay in the middle of the Okavango wildlife, in an unfenced tented camp, alongside a river that offers you drinking water on the spot, in an African-European mixed group of participants, has been an experience I wouldn't have wanted to miss for the world. As far as my training's concerned….I'll be back!
Hans (Dutch, age 49)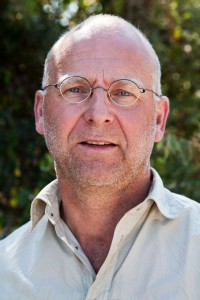 I had heard some pretty amazing stories about this Safari Guide Experience in Botswana but I had never been to Africa myself. The only thing that came close was the Peking Challenge where I drove an old jeep from Amsterdam to Beijing in five weeks time.
My friends were quite skeptical when they heard about this trip. Botswana? Sleep in a tented camp without a fence around it? Walk among wild animals, or worse: try to approach them? I'll admit I had the very same considerations, but I was sure that we would be trained and guided in such a way that it would become an exciting yet safe experience.
When I arrived at Kwapa, I almost immediately felt at ease. I also felt safe and enjoyed every minute of my stay. I loved the panoramas, the elephants that were only a few yards away at times, navigating our boat through water lilies, the walks through endless series of islands and streams and the group I had joined. Under the inspiring guidance of Mike we explored virgin territory – on foot and by Landrover -, and got stuck a few times. We drank sundowners every night and discussed the events of the day and life in general by the campfire till midnight.
This back-to-nature-experience introduced me to Africa in a very intense way. It has, without a doubt, been one of the most profound experiences I have had up until now and I can't wait to explore the rest of this beautiful part of the world with Mike and Peter again.